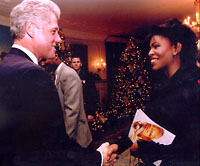 Special thanks to The Clinton Foundation,
CARE, Sheila Johnson, President George H. W. Bush's Points of Light Foundation and many others for their inspiration in establishing Veronica's Story Foundation.

| | |
| --- | --- |
| | Holiday Gratitude |





Veronica's Story Foundation
1490-5A Quarterpath Rd #185
Williamsburg, VA 23185

757-243-3025

Send Us

E-mail

© Copyright 2007
VeronicasStory.org
All Rights Reserved




December 2, 2010

Holiday Gratitude For A Life Nearly Lost And For The Community That Rallied Around My Children....

Back in September, as I was preparing to cover the approaching storm, I suffered a major medical crisis that left me face down on the staircase — fighting for my next breath. My 4 year old twins witnessed the frightening scene unfold. It happened just as Hurricane Igor began to bear down on Bermuda. An ambulance was able to get to the house and rush me to the local hospital just before it went into lock-down mode. I had to be resuscitated twice and my family was informed that my condition was grave. As soon as the airport opened I was placed on a "life flight" to an ICU and Acute Care Unit in Boston where I would remain until November. I've had to learn to walk again, to use my hands, to speak and even to see. It has been quite a journey of faith and tested my physical and emotional endurance. My heartfelt thanks goes out to those across the US and the Islands - even Russia who stayed in prayer for me. Thank you as well for the encouraging cards, lovely flowers and phone calls. You have all helped to keep my spirits high.

I am equally as grateful to my circle of family and friends, along with our great Nanny, who collectively swooped down and took care of Emebet and Eyasu. You all made them feel safe and happy and gave me the peace of mind needed to begin my recover. Others took care of our home, paid our bills and brought food to the house. It was all part of an amazing effort to keep life as normal and consistent as possible for the twins. Still others dropped everything and rushed to the hospitals in Bermuda and Boston. And, even though I was on a breathing tube and unable to communicate, you talked and sang to me and held my hand during many challenging and tearful nights. Please know that your love, faith and positive energy have had a profound effect on me and on the children. There are no words that can adequately express my deep love, appreciation and gratitude for each of you.


Happy Holidays!
Tracey

(It will be a while before I am able to respond to all of the messages that have accumulated over several months and I might not get to all of them. I hope you understand).