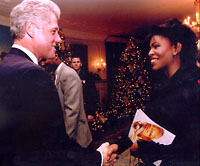 Special thanks to The Clinton Foundation,
CARE, Sheila Johnson, President George H. W. Bush's Points of Light Foundation and many others for their inspiration in establishing Veronica's Story Foundation.

| | |
| --- | --- |
| | SYNERGY & CREDITS |





Veronica's Story Foundation
1490-5A Quarterpath Rd #185
Williamsburg, VA 23185

757-243-3025

Send Us

E-mail

© Copyright 2007
VeronicasStory.org
All Rights Reserved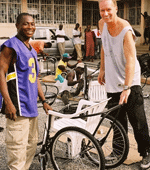 It's the story of a disabled orphan from Ghana who wrote a letter to the Challenged Athletes Foundation here in the United States asking for only a bike. However, what he got would change his life and an entire nation forever.

Our EMMY winning Story just might have you asking: Am I doing enough to leave this world a better place than I found it?


Emmanuel's Story
Tracey Neale, WUSA TV9 (CBS)

WASHINGTON, DC-

"Are you nervous? No, not particularly." That's what Emmanuel Ofosu Yeboah was feeling as he dressed for a visit to the White House.
There was no need for nerves, because his message is simple - it's his "method" that's inspirational. And on that day Emmanuel Ofosu Yeboah was preparing to take it.
"Okay, I am ready to go...," Emmanuel said. All the way to the White House.

And what exactly is the message? That people with disabilities have something valuable to contribute. One might think that thought is a given, but it's not in Ghana.
There ten percent of the population is ostracized at birth, all because they were born with a disability.

When 28-year-old Emmanuel was born with a severely deformed leg - his father abandoned him.
Moreover, his mother was advised to kill him and in some people's opinion it would have been just as well, since his country considered him cursed.
"The government does not support disabled people," Emmanuel explained. In Ghana disabled children who are not killed, are often hidden away and expected to be beggars.
Emmanuel's mother in choosing to spare his life was sick herself and had nothing, gave him everything.
She soon died and in his grief Emmanuel found his calling.
That "calling" was to ride across Ghana proving the disabled can achieve. But, having one leg wasn't his only obstacle. He didn't have a bike. So he asked for one.
Jim MacLaren, Challenged Athletes Foundation's president recalls about Emmanuel that, "He
doesn't ask for money...even though he is shining shoes for a dollar a day. He asks for a mountain bike. To ride across Ghana and raise awareness for disabilities."

A missionary put Emmanuel in touch with the Challenged Athletes Foundation and his journey began. Documented in newspapers and on the radio he was becoming an international hero. He was even honored in Ghana, the place that once ostracized him, now embraced him.
The meager donations Emmanuel has raised thus far have proved priceless; funding independence and self worth through hundreds of homemade wheelchairs.
But what money hasn't been able to buy is new laws. Emmanuel envisions a Ghanaian Disabilities Act. It's a goal that remains an uphill battle. But already the world has witnessed the profound power of one man to shift cultural thinking and perhaps even like leaders before him affecting political change will be next.

MacLaren says, "When it says he will be the next Martin Luther King or Nelson Mandela of Ghana, it's an earned moment. You believe it. I am blessed to and honored to know him."


Note: Emmanuel's story has drawn the attention of Oprah Winfrey, who voiced a documentary film about his life. It aired in select theaters and is now available online.


Fact about Ghana
The Movie






PSI operates in the private sector, with a bottom-line orientation that is rare among nonprofit organizations. The success of their approach is reflected in the growth of PSI and the impact PSI is having. PSI currently operates in more than 60 countries in Africa, Asia, the Americas, and Eastern Europe. PSI is constantly expanding its portfolio of products and services for reproductive health, HIV/AIDS prevention, malaria control, child survival and safe water. With the assistance of donors, government counterparts, and partner organizations, PSI is helping to save lives.

Condom Use Video

PSI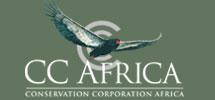 Conservation Corporation Africa (CC Africa) is Africa's leading ecotourism organisation, committed to providing world-class experiences for discerning travellers, and to ongoing investment in sustainable conservation development and community empowerment.

CC Africa's ecotourism model recognises that economic development of the areas in which they operate is crucial to the maintenance of bio-diversity. They also recognise that much of Africa's wildlife heritage and land is influenced or owned by local communities. CCAfrica's model – successfully implemented throughout our operations in Africa -- links international, low volume/low impact visitors to these wilderness areas and their resident communities. The resultant revenue tangibly demonstrates the benefits of ecotourism and conservation to the neighbouring residents.
They also help provide clean water and HIV/AIDS awareness programs in neighbouring communities.

CCAfrica






Jambo Kids celebrates cultural diversity and promotes postitive character traits.
Their products include soft, huggable dolls, storybooks and an interactive website.


JAMBOKIDS






If you are considering an international adoption, we highly recommend this book. It chronicles the struggles of a carefree businesswoman as she embarks on a journey to bring two children home from Ukraine.
It is written by mother and author; Margaret Schwartz.
Way to go Margaret!

The Pumpkin Patch



THERE IS NO ME WITHOUT YOU -
A book for the head and heart!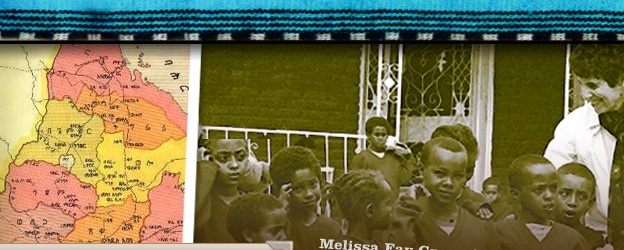 Melissa Fay Green's award-winning story of Mrs. Haregewoin Teferra, a middle-class Ethiopian widow whose home became a refuge for hundreds of AIDS orphans, and about a few remarkable children who moved through her life.



No Me Without You