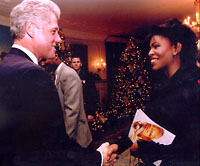 Special thanks to The Clinton Foundation,
CARE, Sheila Johnson, President George H. W. Bush's Points of Light Foundation and many others for their inspiration in establishing Veronica's Story Foundation.

| | |
| --- | --- |
| | PRESS |





Veronica's Story Foundation
1490-5A Quarterpath Rd #185
Williamsburg, VA 23185

757-243-3025

Send Us

E-mail

© Copyright 2007
VeronicasStory.org
All Rights Reserved






Published: December 3. 2010 07:29AM
TV journalist on mend after nearly dying

By Ruth O'Kelly-Lynch
Click on Image to Close
Medical emergency: Award-winning Bermudian TV journalist Tracey Neale, with her children Emebet Nigella and Eyasu Nigel.
Photo by: Jabari Burgess-Robinso

Bermuda Broadcasting Company's news director is recovering after nearly dying as Hurricane Igor approached.

Tracey Neale, who is a Bermudian award-winning journalist, was one of the last residents to be rushed into the King Edward VII Memorial Hospital before the full impact of the Category One hurricane hit.

As soon as it was safe she was taken to Boston by air ambulance where she remained until last month.

She told her charity, Veronica's Story which advocates for orphans the experience tested her physical and emotional endurance.

"I suffered a major medical crisis that left me face down on the staircase fighting for my next breath," she wrote. "My four-year-old twins witnessed the frightening scene unfold.

"It happened just as Hurricane Igor began to bear down on Bermuda. An ambulance was able to get to the house and rush me to the local hospital just before it went into lock-down mode.

"I had to be resuscitated twice and my family was informed my condition was grave.

"As soon as the airport opened I was placed on a 'life flight'; to an Intensive Care Unit and Acute Care Unit in Boston, where I would remain until November.

"I've learned to walk again, to use my hands, to speak and even see.

"It has been quite a journey of faith and tested my physical and emotional endurance."

Mrs Neale thanked everyone who has sent prayers and cards as well as those who stepped in to help take care of her daughters and run the family home while she was recovering.

Mrs Neale returned to Bermuda in 2009 after spending 15 years working as a reporter and news anchor at CBS and Fox News in the US.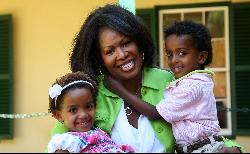 Published: May 7. 2010 05:18AM
The gift of family

By Jessie Moniz
'Had to overcome so much': Tracey Neale with her children Emebet and Eyasu.
Photo by Jabari Burgess-Robinson

Tracey Neale had covered everything from snipers to presidential elections, but her life changed forever when she was assigned to cover the AIDS crisis in Africa.

Several years ago, she visited Enhembane, an orphanage in South Africa, where a quarter of the population was HIV positive and dying rapidly from a vicious version of the virus, called sub-type C.

"I walked into an orphanage in South Africa and I felt a tug on my skirt," said Ms Neale. "I looked down and there was this little girl in a blue dress with white polka dots. I sat down on the floor, she climbed on my lap, put her arms around me and called me 'mama'.

"My life changed instantly. Her name was Veronica. Although I was there covering the story, I decided I was going to adopt her."

Unfortunately, Veronica had full-blown AIDS and was deemed unadoptable, because she terminally ill.

In fact, all of the children in this particular orphanage had the AIDS virus. "I thought I would fight it, but she ended up dying," said Ms Neale. "I came back to the United States and felt I had to do something."

Ms Neale won the 2000 Edward R. Murrow award for the resulting documentary.

She used her award money to help the children she'd met in South Africa. She also went on to start a charity called 'Veronica's Story', that advocates for orphans and vulnerable children, and also attempts to empower women and girls. They now have offices in Washington, DC, Florida and soon Bermuda.

Their logo includes a picture of the blue dress with white polka dots that Veronica was wearing on that fateful meeting.

"We do a variety of things," said Ms Neale. "We send volunteers over to work with the children. Maybe a school teacher or nurse might give up vacation time to go over.

"This week we have 5,000 children's books going to a school in Ethiopia. It will be the first time these children have ever had their own book. We have done a lot of neat projects. We co sponsored two of the inaugural balls for the last presidential election."

It took her six years to get over Veronica's death.

"I am 43 and at some point in life you start to look at life and balance," she said. "For me, I wanted a family. I made a deliberate decision to go down that path.

"After 20 years of working, working, working and after putting family life on hold, I made a major switch."

It took her two years to adopt twins from Ethiopia. Emebet and Eyasu finally arrived at their new home at the age of 18 months. They are now three.

She said the orphanage they were adopted from in Ethiopia was as good as it could be.

"Orphanages overseas face their challenges – running water, a lot of children and limited staff," she said. "It was as good as it could be. The people there cared about the kids, but there were a lot of kids and limited staff.

"They did the best they could and I saw other orphanages where I couldn't say that."

She said the children in orphanages like this are often desperate for the basics like affection, love, food, and proper shelter.

"My children had to overcome so much," she said. "They had to overcome being in the orphanage. They had medical issues due to lack of food, medical care and exposure to dirty water. They are healthy now. Luckily, they did not have the HIV virus. Sometimes when I look at them I think 'are you kidding me, this is great!'"

At first she lived with them in Washington, DC, but quickly found she longed for a simpler life. Talks with the Bermuda Broadcasting Company began two years ago with meetings in Washington, DC.

CEO and Managing Director Rick Richardson, said they were delighted to finally have her in Bermuda.

"We are pleased to have secured the services of such an outstanding broadcast professional," he said.

"Ms Neale is an accomplished journalist and presenter by international standards, having excelled in one of the toughest markets in the United States, Washington, DC."

Ms Neale said coming back to Bermuda was a dream come true. "It is something I have always had in the back of my mind that maybe one day it would happen," she said.

"Then becoming a mother and adopting the kids, it has been a major lifestyle change. It all just came together."

Ms Neale said it was particularly poignant that her twins were three-years-old on the move to Bermuda, because that is the age she was when she left here.

She left with her mother Ruby Dill, and father Col. Larry Neale who was in the military. Although they travelled extensively, they always returned to Bermuda.

Her grandmother, Margaret Dill, 100, is still living. Ms Neale said she was looking forward to spending Mother's Day with her grandmother and mother and children.

Her career path started at James Madison University in Harrisonburg, Virginia.

In her junior year, she started in television with the small ABC affiliate there. After college went on to work for the ABC affiliate in Florida, and then Charlotte, Virginia.

She went on to work for Fox in Washington DC and stayed with them for 15 years.

Between 2004 and 2008 she was the weekday anchor of 9NEWS NOW in Washington DC. She was also the evening anchor for Fox News in Washington DC for almost a decade.

Like a lot of mothers (and fathers), she's found that motherhood requires sacrifices.

"The last presidential election was my first time being at home with the kids," she said. "I felt like I should be working. As much as I loved the kids, it was so hard not to be a part of that."

During her career in the United States she won numerous awards including the Emmy for "Outstanding News Anchor" in Washington three years running from 2001 to 2003.

In 2005, won two more Emmys for excellence in reporting, and a 2005 Associated Press award.

Those are just a few of her accolades. She said working as news director in Bermuda is definitely different.

"The size alone of the staff is smaller. It is totally different work. I was anchoring the 5 p.m., 6 p.m. and 11 p.m. news in Washington DC. This is a management job.

"It is exciting because I have wanted to be here for so long. Again, it was a deliberate lifestyle change. I am excited about some of the changes I want to put into place here."

Ms Neale said she was in the process of registering Veronica's Story as a charity in Bermuda.

For more information, go to her website at www.veronicasstory.org.






April 7, 2009

Recent news that music icon Madonna was denied her request to adopt a second child from the African country of Malawi sparked a larger discussion about overseas adoptions. Tracey Neale, a former TV news anchor who adopted twins from Ethiopia, and Deborah George, a radio producer and mother of an adopted daughter from Sierra Leone, discuss the difficulties of adopting children from overseas.








The Washington Post/ Reliable Source

By Amy Argetsinger and Roxanne Roberts
Tuesday, June 19, 2007; C03

Tracey Neale, Set for the Long Haul of Motherhood

Any day now, Tracey Neale is going to briefly disappear from the airwaves, and now we know why: WUSA's nightly anchor is adopting two children from Ethiopia.

"I'm waiting for the phone call," Neale told us. "I've been wanting to do this since I was 5 years old. It's a dream of mine."

After more than a year working with a private adoption agency, Neale went public with her plan Sunday night at the Rammys, the annual awards for local chefs and restaurants (check out the winners in tomorrow's Food section). Neale, glam in black feathers, was introduced by WTTG (Channel 5) meteorologist Sue Palka, who proudly told 1,600 guests that her close friend is about to bring home two kids.

Neale first tried to adopt an African child six years ago, after reporting about the AIDS crisis on the continent. The baby died, and Neale founded Veronica's Story -- a foundation to help orphans and children with the disease -- and quietly continued to research adoption. Now, as a 40-year-old single mom-to-be, she's requested young siblings (ideally a brother and sister, who might otherwise be separated) and says she's as nervous as "any expectant mother."

Plans for maternity leave are up in the air, and she's still trying to decide if she'll bring a WUSA crew to Ethiopia when she picks up her kids. One thing she knows for sure. As a first-time mom, she's going to need an experienced nanny. "I'm already looking," she said.







Neale's 24/7 Coverage ,
By Amy Argetsinger and Roxanne Roberts
Monday, October 1, 2007; C03

New mom Tracey Neale thought she understood how adopting twins would change her life. She had no clue.
"It's turned upside down," the bleary-eyed Neale told us. "It's one thing to intellectualize it. It's another thing to live it."
After working with a private adoption agency for more than a year, the Channel 9 anchor headed to Ethiopia in August to pick up 13-month-old Eyasu Nigel Neale and Emebet Nigella Neale, who spent their early months in an orphanage. Neale and the babies spent 10 days in Addis Ababa adjusting to each other, and returned to Washington early last month.
The 40-year-old single mom got a crash course on baby life -- dirty diapers, barely sleeping -- while getting to know the two little personalities that now share her world. Neale had received pictures of the babies before she left for Africa, and thought she had them all figured out: Son Eyasu, the older twin, looked like the big, protective one; daughter Emebet looked small and shy.
But "they're the exact opposite of what I'd thought they'd be," she said. "He's the cuddle bunny, and she's the strong-willed, independent one. This girl is destined to be something."
There are still a few details to work out -- finding a nanny, catching up on sleep -- before Neale returns to work next week. No rush, though: "I am totally loving" being a mom, she said. "I'm surprised I didn't do it years ago."

See Full Article Here